В гостях у Маршака
A mysterious story with the translation of Marshak ...

March 28, 2018
Yakov
Today my mother and I read to the younger brother Denis a book of poems by Marshak. And there was a poem about Robin the Red-necked. This is how the page from the book looks like, I found it on the Internet. The quality is not very good, but it was important for me to show this picture.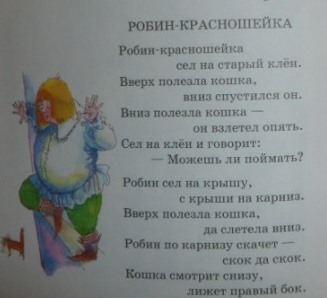 Robin-red-necked sat down on the old maple.
Cat climbed up, down he went down.
The Cat climbed to the bottom - it took off again.
He sat down on the maple and said: - Can you catch it?
Robin sat on the roof, from the roof to the ledge.
Cat climbed up, but flew down.
Robin on the cornice jumps - skok and skok.
The cat looks from below, licks the right side.

The artist portrayed a man named Robin. It's a common name. But from the text of the poem does not seem that it is about a man.
Who do you think is the hero of this poem?
Machine translation